Latest issue of Health and Social work, 4/2020
• Vol.15. • 2020 No.4.
The Health and Social work is a peer reviewed journal that publishes original articles in public health, social work, nursing, laboratory medicine (diagnostic methods) and pedagogy (paedeutics). The Health and social work publishes high quality, original papers that contribute to the methodology of research in health and social work. The Journas was founded more than 15 years. Professional journal was established in 2005 at the Faculty of Health and Social Work of blessed P.P. Gojdič in Prešov, St. Elizabeth University in Bratislava. Professional journal has gradually developed based on the quality of contributions to the scientific and professional journal.
In 2010, it became an international journal, comes in two versions – Slovak and Czech. Since 2011 magazine is published in printed form and is available also on the Internet in Slovakia and the Czech Republic. In order to allow students access to the journal is an online form for free.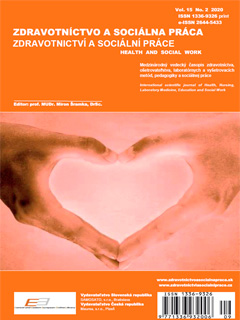 A selection of the content of the latest issue
Factors Affecting the Quality of Life in Patients with First Type Diabetes Mellitus
Sebaceous Carcinoma of the Eyelids
Different Anti_VEGF Agents fort he Treatment of Diabetic Macular Edema in Patients with Worse Baseline Visual Acuity – Real World Evidence
Case Study of the Application of Hippotherapy in School-Age Children with Multiple Disabilities
Application of the Method of Short Intervention to Increase the Health Literacy of Patients in the Czech Republic
Parental influence on the physical activity of adolescents:systematic review of current scientific evidence
Limits and Possibilities of Management of Social Services Related to the Performance of Certain Professional Activities
Download the latest issue:
Health and Social Work, SK/EN, issue 4/2020